Cabinet Refinishing:
A Smart and Affordable Kitchen Makeover
Free Estimates | Competitive Prices | Over 40 Years of Experience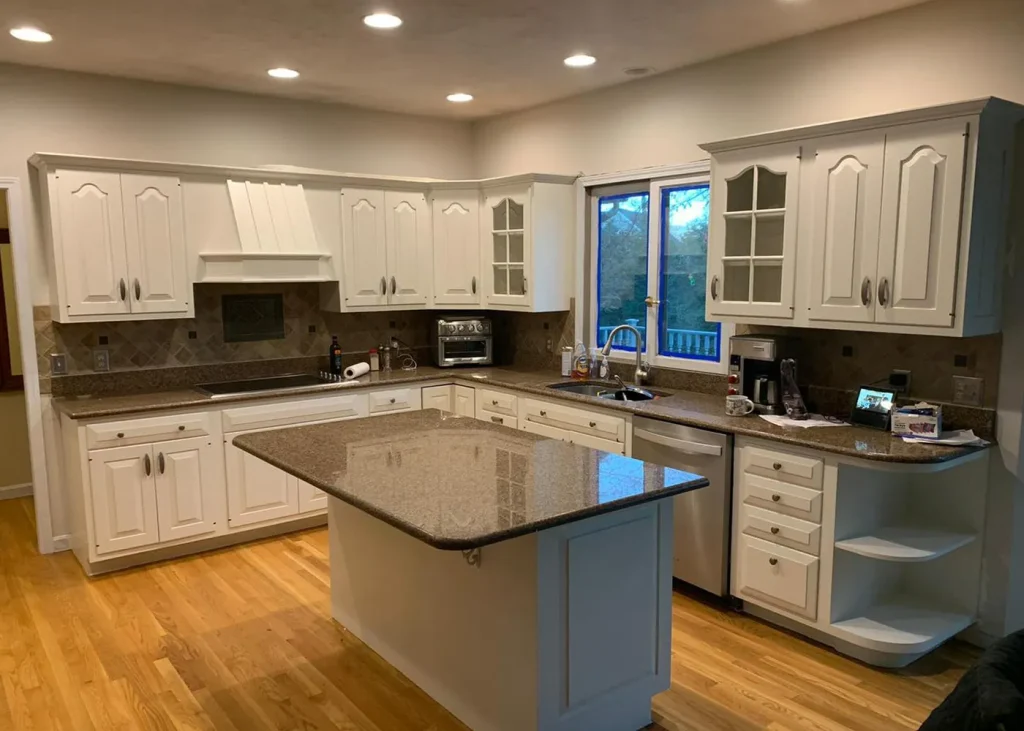 Make Your Cabinets Better Than New
Cabinet refinishing is one of the most popular ways to renovate a kitchen. It's more affordable than getting new cabinets, and Prep Smart Professional Painting uses high-quality materials that make your cabinets better than new! If you're looking for a cabinet painter in Lincoln, RI, we're the team to call.

We use high-end lacquer coatings that make your cabinets durable enough to resist scratches and flexible enough to endure bends and deformation. It's a premium waterborne coating that's safe to spray inside your home when handled properly with our air exhaust and filter equipment. It's mildew resistant, and when it's applied to a machine-sanded surface by a trained spray finisher, it levels out to give you a smooth, rich finish that looks amazing.

Our furniture-grade paint will make your cabinets beautiful, and it will add value to your home. To request a return call on cabinet refinishing in Rhode Island, Massachusetts, or Connecticut, just fill out our online form.
Why Do Homeowners Love Cabinet Painting So Much?
Quite simply, cabinet painting is an investment that pays off when it's done well by professionals using the proper equipment and materials. It increases your home's value and changes the look of your kitchen.

It's also considerably more affordable than other kitchen renovations. Having your cabinets replaced can easily cost as much as $20,000, and even resurfacing them can run more than $10,000. For a fraction of that cost, Prep Smart Professional Painting can repaint your cabinets and make them look beautiful. Call us for a cabinet painter in North Smithfield, RI today!

We stand behind our work with a two-year warranty that covers peeling, blistering, or chipping paint. We'll give you a written copy of our warranty during your free estimate, so fill out our form today to have us call you back!
Your Cabinets Can Look Like Fine Furniture
Prep Smart Professional Painting specializes in repainting and refinishing cabinets, and our technique makes your cabinets look and feel better than they did when they were new. We focus on proper preparation, and we use professional application techniques and the best coatings available. When you have fine furniture in the other rooms of your house, the kitchen cabinets should have that same quality!

One critical aspect of our work that we're particularly proud of is our cabinet door refinishing. This process breathes new life into the most prominent part of your cabinets - the doors. With time, they are the parts most prone to wear, scratches, and dullness. However, our meticulous cabinet door refinishing can make them appear as grand as the fine furniture that graces your home. At Prep Smart Professional Painting, we use the highest quality materials and our proven techniques to ensure a beautiful, long-lasting finish. When we're done, your cabinet doors will not only match the quality of your home's fine furniture, they will also withstand the test of time and daily use.
Why Choose a Real Cabinet Refinisher Over a Handyman?
A quick paint job by an amateur or as part of a DIY project may look good for a while, but investing in high-quality work pays off in the long run. Paint applied without the proper preparation can discolor, peel off, or look bad. It may be less durable, and you could need to refinish the cabinets again sooner than you want.

In contrast, our team of skilled cabinet refinishers at Prep Smart Professional Painting offers precision, durability, and a finish that stays fresh and appealing for years. We put in the necessary preparation time and use high-grade materials, ensuring that our paint jobs are resistant to common issues like discoloration and peeling. Plus, with over 40 years of experience, our expertise is your guarantee for a job well done. Save time, money, and avoid potential disappointments by choosing us, your trusted cabinet refinishers.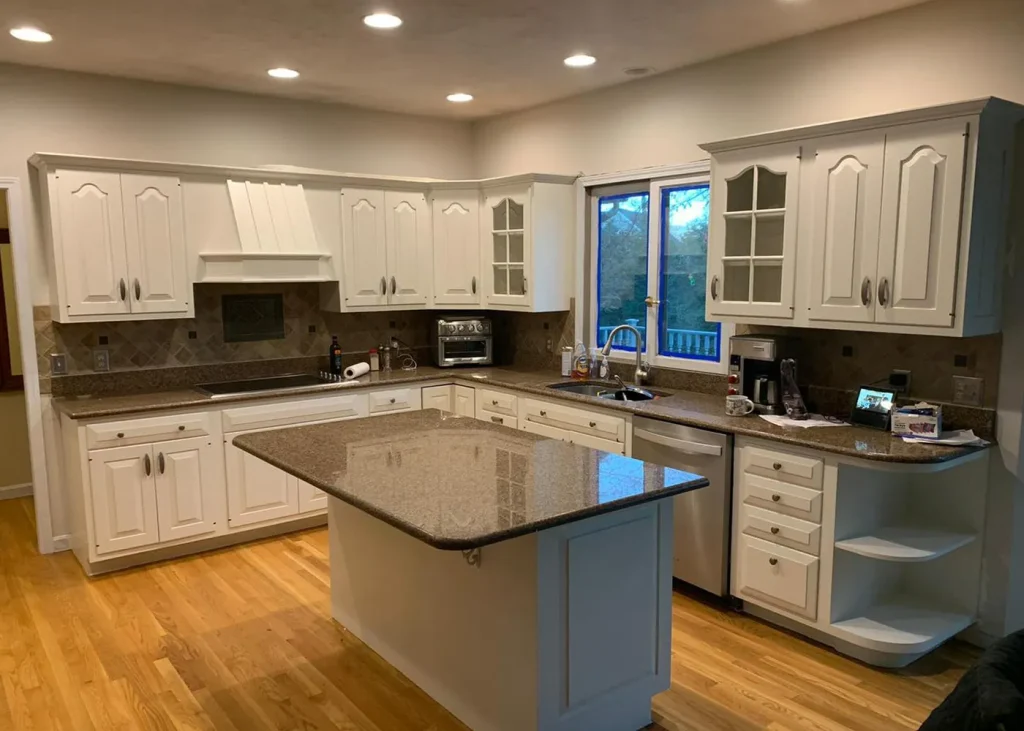 Make an Important Room More Visual Appealing
Your home's kitchen is one of the most important rooms. It's one you use daily, and it's one that your family enjoys. In many cases, it's one of your primary social gathering spots, as well. How many times have you, your friends, and your relatives gotten together in the kitchen to cook and share good times?

Recognizing the significance of this space, you may have considered refreshing its look. One efficient and cost-effective way to do this is by hiring professional kitchen cabinet refinishers. They have the ability to completely transform the aesthetic of your kitchen. Their expertise lies in rejuvenating outdated or worn-out cabinets, bringing a new breath of life into your kitchen without needing to replace the whole unit. With their help, you can elevate your culinary space, making it more visually appealing and adding a touch of personal style that complements the warmth and togetherness this room embodies.

Revitalizing your kitchen with cabinet refinishing is an exceptional way to reinvigorate this crucial space. By opting for a range of hues, from elegant neutrals to vibrant shades, you can completely transform the ambiance of your kitchen. Choosing Prep Smart Professional Painting's superior lacquer coating for your cabinets offers an economically smart route to refresh an outdated kitchen. Our services ensure longevity, durability, and a dash of charm. Get started on your kitchen transformation today by simply filling out our online form to request a callback.
Free Estimates on Interior Painting
Contact Prep Smart Professional Painting today!
Meeting All Your Painting Needs
Their prep work is excellent. The exterior was scraped, sanded, and caulked. Our house has been painted 5 times over the past 30 years and this is the best job by far! We will definitely use them for future projects.

I went with Prep Smart Painting to paint my basement and stairs. I like the attention and details the company provide and will continue to look forward in doing business with them. We are very happy ...

I hired Prep Smart to paint the exterior of a house I was selling. They provided a mid-priced estimate based on others received. Communication was easy and the crew was professional and courteous ...

Thanks to Ramsey and his team at Ace Painting Professional for always doing the job and having such a luxurious finish. The team works over time with the standard of excellence. Definitely a 🌟🌟🌟🌟🌟...
Frequently asked questions
Have a painting-related question? We have the answer! Check out our FAQs below to learn more about our company and services.
As one of the top choices for a cabinet painter in Rhode Island, we stand behind our work. We offer a comprehensive 2-year warranty that covers peeling, blistering, or chipping paint.
Yes. We offer free estimates within 24 hours for your interior painting project.
Refinishing your cabinets will increase the value of your home, save you money on replacing cabinets, and protect your current cabinets. If you're looking for an expert cabinet painter for the job, call us at Prep Smart Professional Painting!
Email

vernon@prepsmartpainting.com
Prep Smart Professional Painting